By Dylan Hodge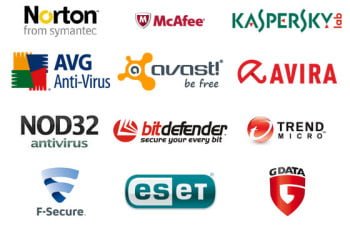 An antivirus solution for small business needs to be easy to use, yet very powerful. Not all small businesses have their own IT department or can afford to hire IT consultants.
In my 15+ years of dealing with small business I've seen a LOT of different antivirus software come and go. I've seen many businesses try to get away with free options that may be okay for home use, but are not licensed for business and usually have slower virus definition update intervals or some other limitations.
What you really want is a solution that is centrally managed. Most of the big players offer a management console so you can login to one computer / server and see the status of all the protected systems from one place.
Having a centrally managed console makes it much faster to deploy, scan, update, troubleshoot and "Manage" all the systems on your network. This makes things much easier for business owners to deal with the task of managing their antivirus, and lets face it as a small business owner myself, time is not a luxury many of us have.
Another feature of a centrally managed solution is alerting. When there are any problems or if a virus is found on your network on any of the computers that are managed by the console, you'll get an alert via email. This is fantastic because once you've got the software installed you can then get automatically notified of any problems without having to login to the console every so often to check.
Here's something you may not have thought of. Antivirus for your iPhone, iPad and Android devices. With the growing adoption of mobile devices, virus makers are starting to target mobile devices as well. This should be a consideration when choosing your antivirus solution.
Okay here's the solution I recommend:
Vipre Antivirus by ThreatTrack Security
Here are some of the reasons this particular software wins my vote for Top Antivirus Software For Small Business
Easy to install
Tiny footprint, doesn't use much resources on computers
No annoying popups like some of the others
Works on PC, Mac, iPhone, iPad, Android
Works from cloud servers
Supports Hyper V Virtual servers
Includes management console
Good price
Has free 30 day trial
Most importantly, it is effective at blocking threats
Integrates with Outlook to scan your emails
Much more:
Vipre Antivirus by ThreatTrack Security is an effective solution to block threats to your small business.